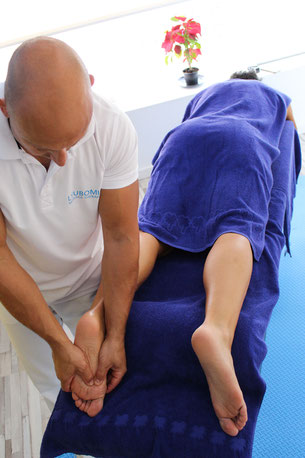 🇬🇧Congenital flat feet are rather rare.

The flat feet form in childhood, sometimes in adulthood due to overloading on the feet, lack of exercise and obesity. The underdevelopment of the foot and leg muscles in children and adolescents is mainly due to a lack of exercise.

Another important cause is the premature and excessive wearing of shoes.

When children and adolescents do not often walk barefoot or on socks, it weakens the muscular and tendon apparatus of the foot and calf.

Flat feet are thus a foot malposition.

Numerous reports from people with flat feet show that one can permanently get rid of the foot malposition.

With the right exercises you can train and strengthen the necessary muscles so that the foot does not fall back inside. Other muscles have to be relaxed.
The interaction of relaxing and strengthening the muscles is essential to restore the optimal movement pattern.

Do you have flat feet? What have you tried so far and how was your experience with it?
Follow us:
🇪🇸Los pies planos congénitos son bastante raros.

Los pies planos surgen en la infancia, a veces en la edad adulta debido a la sobrecarga en los pies, la falta de ejercicio y la obesidad. El subdesarrollo de los pies y los músculos de las piernas en niños y adolescentes se debe principalmente a la falta de ejercicio.

Otra causa importante es el uso prematuro y excesivo de zapatos.

Cuando los niños y adolescentes no caminan a menudo descalzos o en calcetines, esto debilita el aparato muscular y tendón del pie y la pantorrilla.

Los pies planos son, por tanto, una malposición del pie.

Numerosos informes de personas con pies planos muestran que uno puede librarse permanentemente de la mala posición del pie.

Con los ejercicios adecuados puede entrenar y fortalecer los músculos necesarios para que el pie no vuelva a caer hacia adentro. Otros músculos deben estar relajados.
La interacción de relajación y fortalecimiento de los músculos es esencial para restaurar el patrón de movimiento óptimo.

¿Tienes pies planos? ¿Qué has intentado hasta ahora y cómo fue tu experiencia con él?
Síguenos:
🇩🇪Angeborene Plattfüße sind eher selten. 

Sie entstehen vor allem im Kindesalter, manchmal auch bei Erwachsenen durch Überlastungen und Fehlbelastungen der Füße, Bewegungsmangel und Übergewicht. Die Unterentwicklung der Fuß- und Beinmuskulatur bei Kindern und Jugendlichen geht vor allem auf Bewegungsmangel zurück. 

Eine zweite wichtige Ursache ist das zu frühe und übermäßig häufige Tragen von Schuhen.

Wenn Kinder und Jugendliche nicht oft barfuß oder auf Socken laufen, schwächt das den haltenden Muskel- und Sehnenapparat des Fußes und der Wade.

Plattfüße sind somit eine Fußfehlstellung.

Zahlreiche Berichte von Betroffenen zeigen, dass man die Fußfehlstellung dauerhaft loswerden kann.

Mit den richtigen Übungen kann man die notwendigen Muskeln trainieren und stärken, damit der Fuß nicht wieder nach innen fällt. Andere Muskeln wiederrum müssen entspannt werden.
Das Zusammenspiel aus Entspannen und Stärken der Muskeln ist unabdingbar, um das optimale Bewegungsmuster wiederherzustellen.

Hast du Plattfüße? Was hast du bis jetzt ausprobiert und wie waren deine Erfahrungen damit?
Folge uns: